I have been making music since 2005. initially with my little brother Emilio Larrazabal in a band called "The Interceptors". We split up and he went on to be in a band called "The Nukes" and I went on to form my solo project "KOOL SKULL". My first record was released in 2007 called "Anemic Cinema". It's hard to find a physical copy of it, but I will post it online sometime in the near future. Around 2015, I came across some social drama and decided to remove the albums I produced up until then (about 70 albums) from the internet to keep in my offline vault. Some die-hard fans have preserved these albums and you will be able to find the majority of them on torrent sites or in chiptune/breakcore forums, but I plan on re-releasing them eventually. Until then, I have the albums I made from 2018 til now available on my bandcamp. on Itunes, you can also find a handful of my early albums available as well. do your own homework, nerd.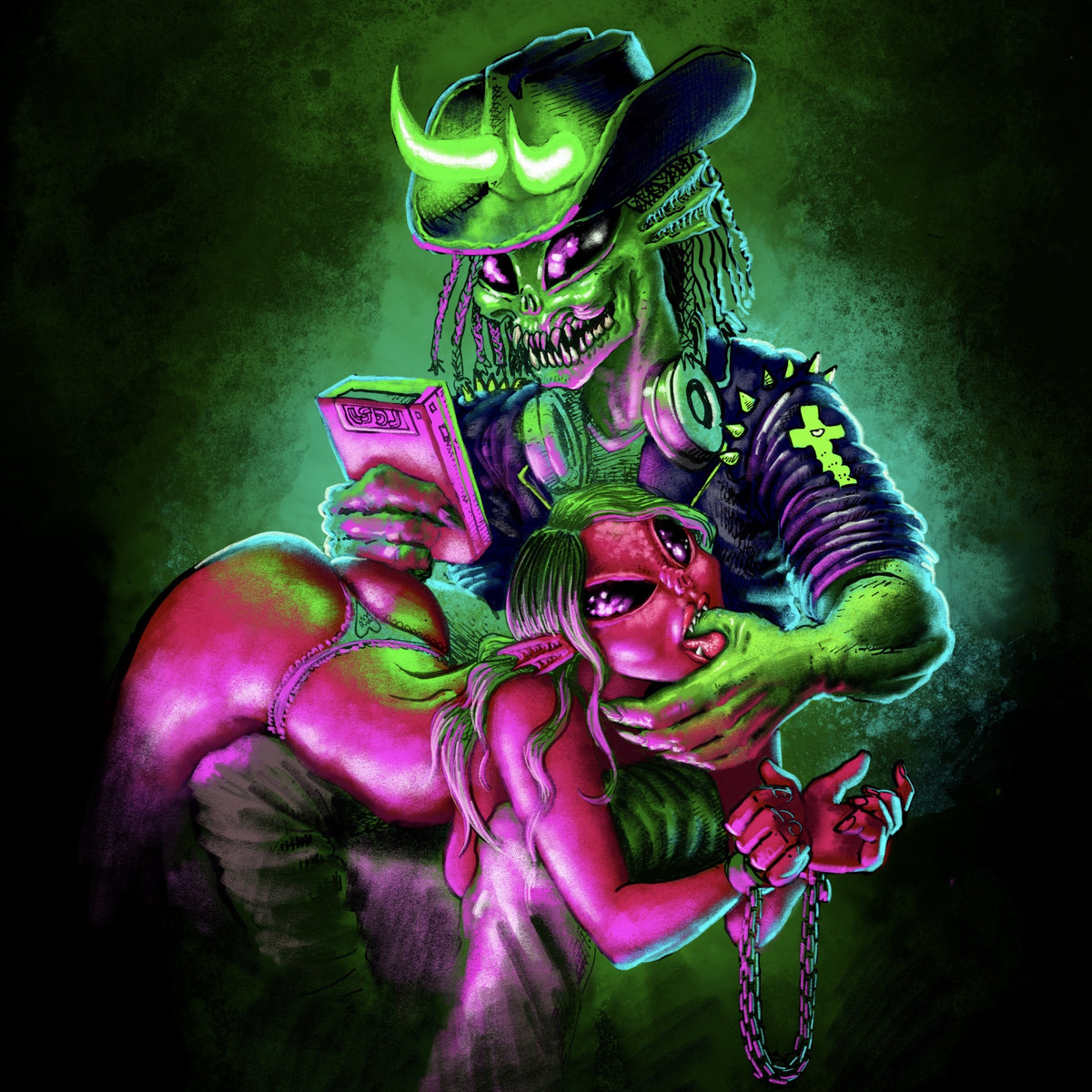 "Island of Ooze" (2020)

I've been working on this album for the alst three years. the songs in this album are intended to be the soundtrack to my animated film "Stardrain". this record is the hardest i've ever worked on any album before. mostly recorded in Redondo Beach, CA. Engineered by Luis Santoyo featuring Ariel Pink, Moda, Jean Mors, and my Pastor Jesse Lee Peterson. the lyrics in this album are intended to assist you through your dark thoughts, so you can come out the other side and be stronger than before.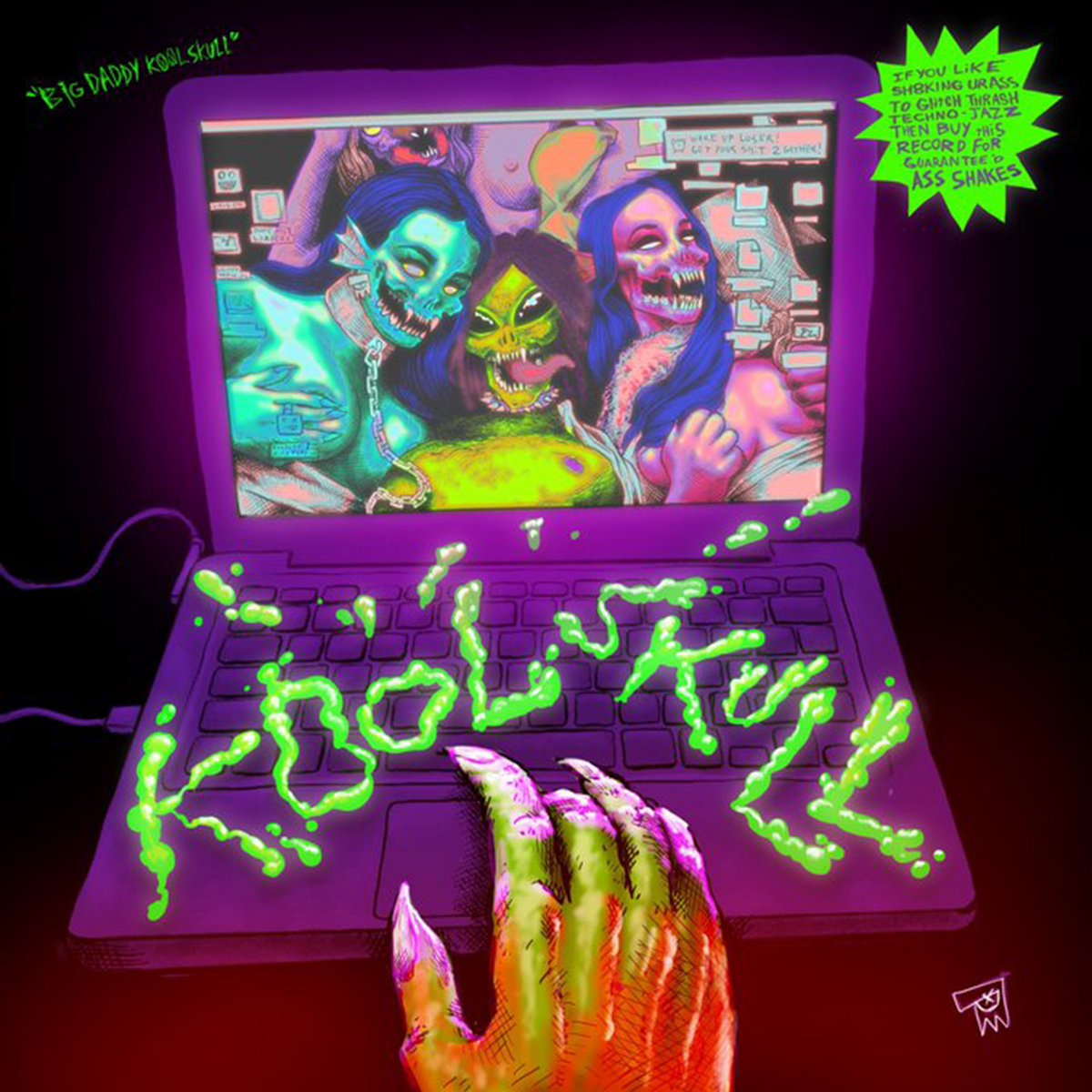 "Big Daddy Kool Skull" (2020)

This record is STRAIGHT HARSH TECHNO THRASH. made on PSP, iPad Pro and a plethora of different hardware, sampled into Nanostudio 2, Cubasism and other shit. check it out if you like hard electro.
"HOLLYWOOD COWBOY" (2020)

This LP was originally produced when I was living in POrtland, Oregon in 2014. Took me a while to put it out, but here ya go. it was produced on an iPad Pro with the apps: Korg Gadget, Nanostudio 2, Turnado, and Cubasis.
"AUDIOTRASH KORGPAINTER" (2019)

This EP is an nosedive exploration into Breakcore and violent glitch-style sound design. it was produced on an iPad Pro with the apps: Korg Gadget, Nanostudio 2, Turnado, and Cubasis.
"Puke on the Sidewalk" (2019)

This Album is full dirty hip hop and electro. it features Some Hip Hop tracks with Talented Guest stars, and some Tripped out Breakcore Instrumentals. it was produced on an iPad Pro with the apps: Korg Gadget, Nanostudio 2, Turnado, and Cubasis.
"Bestowing Grace Through Creation" (2019)

I made this record with a bunch of my creative friends and the overall concept was to just see what kind of weird shit i can make with people in very natural situatiuons. I was not planning to make some overthought record, this was mainly for fun, but came out to be one of my favorite albums i made in 2019.
"Big Booty Thrash" (2019)

This EP was made mostly for DJing and chill party vibes. IDK maybe i missed the mark, but a person who does not like my breakcore shit told me the first track is their favorite song I ever made, so there's that i guess.
"Thrash Prophet" (2019)

I made this album specifically with the Emerald Tablets of Thoth in mind. I was doing a lot of research on the topic by reading Doriel's translation and watching videos by Billy carson while also looking up his sources. I listened to an audiobook of Doriel's translation every night before I slept for a long time, and read it aloud to myself while on the train. The song "Brush Yo Teeth" is supposed to be a mantra I tell myself while brushing my teeth because I had a bad habit of not doing so, and I have an intuitive sense that brushing your teeth and taing care of your dental cavity is closely intertwined with longterm health and possibly inner-peace. The song "Have 2 Agree" featuring Tripp Vomit" is about how you can totally have friends whom you disagree with, and still enjoy eachother's company, and collaborate on art. We actually did have a major falling out over conflicting opinions, but we are currently on good terms and I would go to the concrete for that foo if I had to.
"Stardrain – Chapter 1: 2k4d" (2018)

If you are familiar with my work, then you may know that I have been working on a feature film called "stardrain" for the last twelve years. 2K4D is a cyborg ant boy who is exploring the island of Stardrain for the first time accompanied by his slime covered gameboy which he makes music on. These are some of the songs he wrote while wandering around the slime wasteland. Featuring appearances by MODA from the Bad Pedestrians and Ariel Pink.
"BCHILL" (2018)

I made this LP while I was exploring my personal views on politics and conservatism. It's heavily political with Alt-Right commentators sampled. I have a few lyrical Rap songs on here with a strong emphasis on my LOVE for Los Angeles and my not giving a fuck for how others view me. This record was heavily collaborative with my awesome friends Robo-T (from 8-bit), Chazz Razzlowski (world famous comedian), Kroyclub (Legendary hard electronics producer), and Ariel Pink. This album is pretty much the EXASCT feeling I wish to project to people who want to understand me and my deep psyche. I was living in a few different places with my close homegirl Andy San Dimas at the time. we would just watch youtube and smoke bowls while talking shit. It was alot of fun tbh.
"Pinwheel" (2018)

The first song on this record was made while HEAVILY on Penis Envy strain mushrooms given to me by a trustworthy shaman. The second track was actually one of the most overly developed songs I've ever written. It had a few incarnations and also featured vocals from my friend Cheryl Pineapple who performs as "Miss Moist". That version didn't come out due to losing of files. The final version features a STUNNING guitar performance by my TALENTED friend Eric Andrew Bard, known as "Drewel". The rest of the tracks are sort of not matching, but they're mostly insturmental B-sides from the album "Ow2bkool". I made this record mostly while sleeping on Jess Coble's Couch. Jess Coble is a painfully talented sound designer and audio expert who runs a website called "http://noisebored.com" where he uploads a new song every day. His influence on my music was DRAMATIC at the time, and I respect him HIGHLY. you should all listen to his music and his band "War Hippy".
"Ow2bKOOL II" (2018)

This album is the second installment in a series of records dedicated to a book I am writing called "Ow2bKOOL" about my personal philosophies, worldviews and knowledge about how to make art and music. It's been in the process of being written as hundreds of disconnected notes and tutorials kept in my personal offline records. It will come out one day. This is among the most dynamic albums I've worked out with the collaboration of eccentric geniuses like Ariel Pink, Luis Santoyo (Kroyclub, Jean Mors), David Liebe Hart, Jono Milo, the Crenshaw Cowboy, and the ORIGINAL voice for ZORDON from the Mighty Morphin' Power Rangers David J Fielding! Actually, Luis Santoyo worked on this record with me more than anyone else and actually more than any other collaborator, and actually he worked on this record more than any other record i've made. we were tracking those metal songs in his father's autobody shop in Long Beach California right off of the PCH. Very wide variety of styles on this one from lo-fi pop to Grimy metal, live rock'n'roll, Breakcore, Hip-Hop, and whatever the fuck else is on there.
"B8KDBRKZ"

I made this record while on tour in 2014. Ipad Korg Gadget shit. COMPLETELY instrumental with no silence or downtime. Some songs are kinda cheesy techno but its mostly unpredictable loud breakcore bullshit with very few samples and basically no collaboration. Mastered on headphones while riding on the Greyhound bus.